CSI: NY - Flack/Angell - tears.of.an.angel [season finale]
很催淚~慎點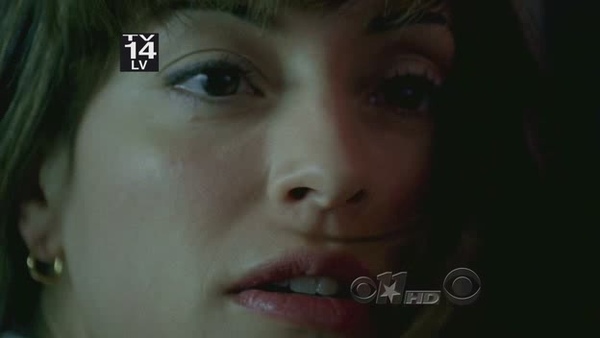 這集一開始就出現了ANGELL驚恐的臉,加上之前閃光到不形的兩人鏡頭,讓人覺得不妙了~~
每到季末就是編劇大開殺戒的時分,不續約或是出了問題的演員紛紛領便當去也。
但是,但是...NY的編劇出手也太狠了點,殺美女演員不手軟,上一個化成白骨了,這個倒在血泊裏,有沒有這麼狠心呀!
編劇是後媽來著?
對應前一集,團隊的人開心的迎接新生命,這集就大開殺戒。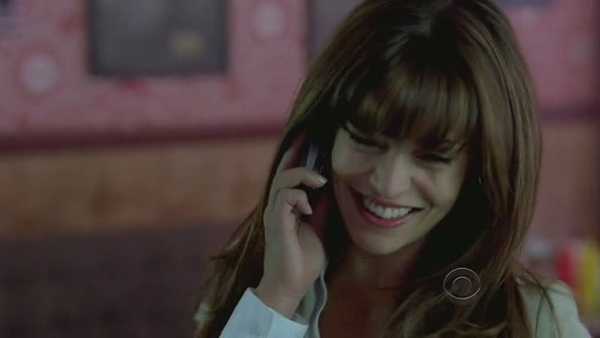 應驗了一句話,CSI裏的情侶,越是閃光,後面就越悲慘,看看兩人甜到化不開的笑容,
兩人甜蜜蜜的談情,到忽然撞入咖啡廳的車子,混亂掃射,聽到Flack驚慌的大叫JESS!!之後電話斷訊了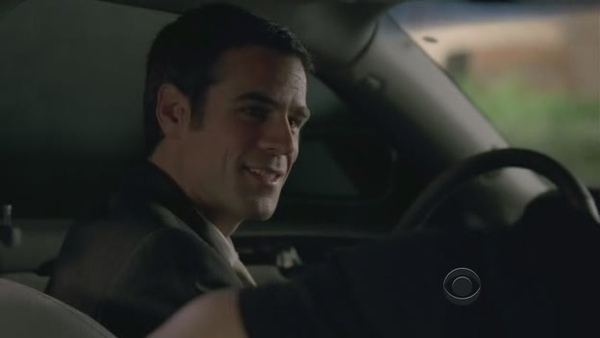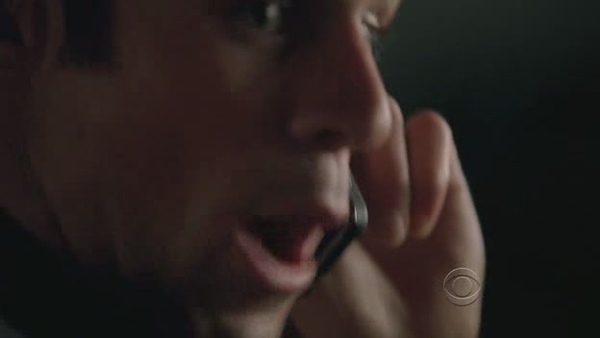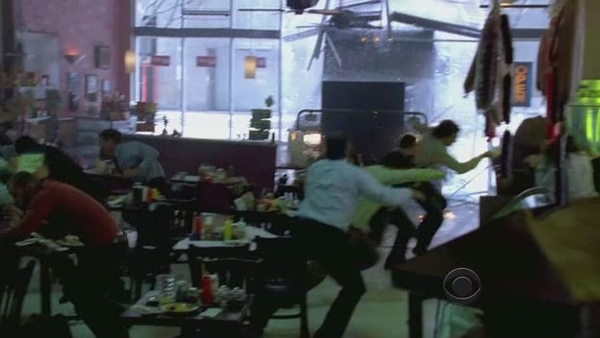 Flack趕到現場,看到倒在血泊裡的 Angell,心都碎了,他把女友抱起,狂奔到警車上,衝到醫院去。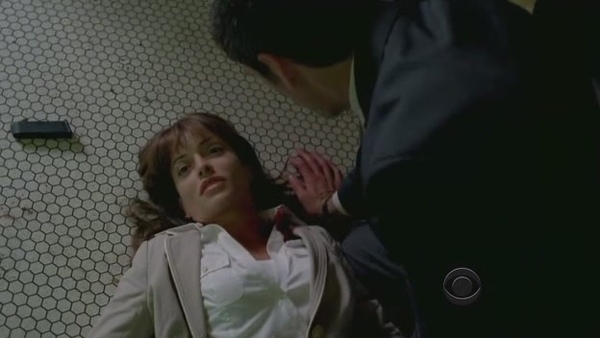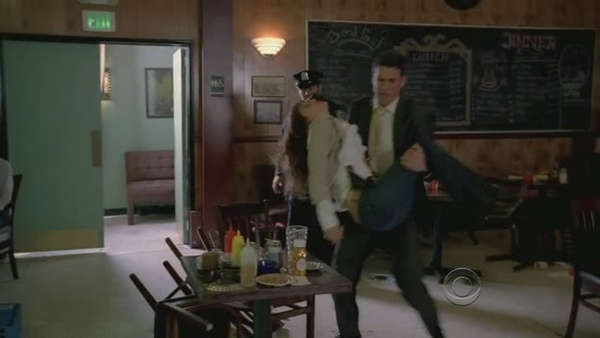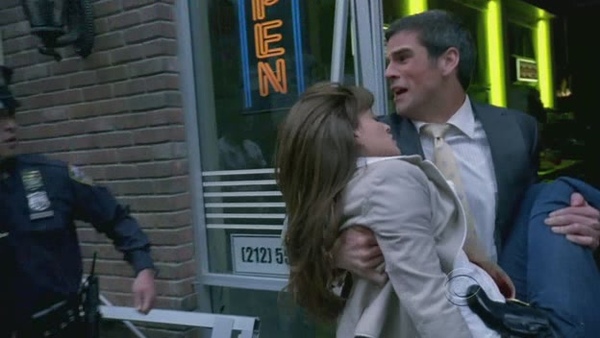 Danny趕到醫院,卻聽到Flack說" She's gone."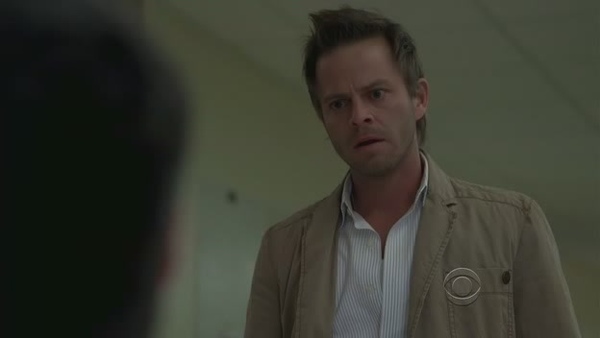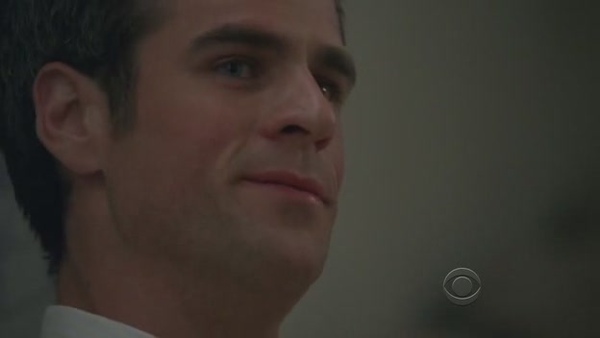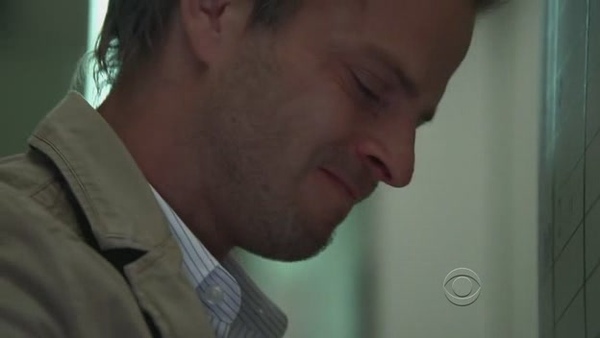 然後Flack哭泣了起來,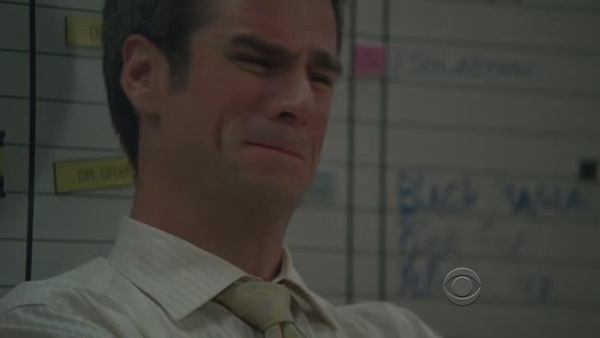 他到殮房去見女友最後一面,深情的作告別。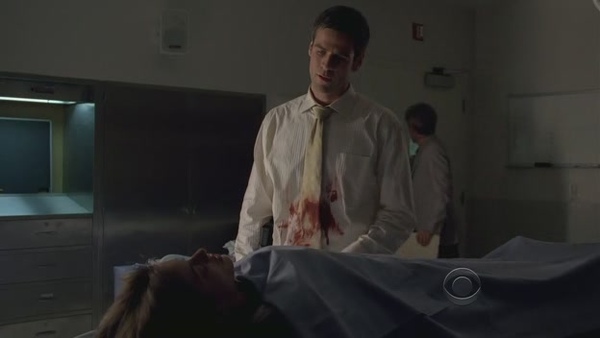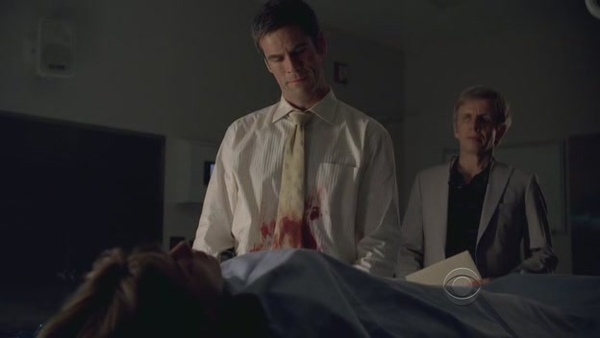 在跟Angell的爸爸談起她時,老爸說『她雖然常常面帶笑容,但是最近她臉上出現的那種笑容,是我之前不曾見過的。』
(指Flack讓她非常快樂)
Flack說『我永遠不會停止(愛她)的』←這句話真讓人心碎~~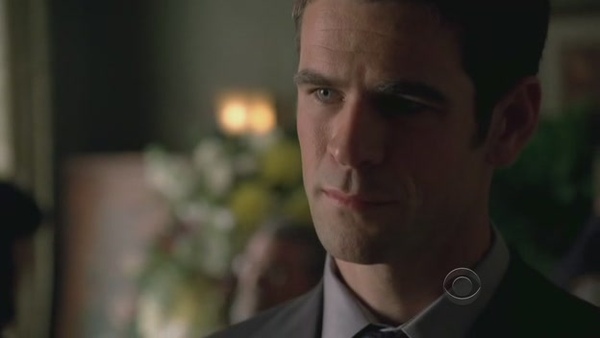 Flack終於有機會幫愛人兼同事手刃仇人,雖然說看得很痛快,但是又為他隱隱擔心,下一季會埋下些後續麻煩的線....
此季CSI本店也有同樣處境,殺WARRICK的兇手一直想激NICK扣版機給他一個痛快,結果NICK忍住了。
嗯~愛情的力量果然會讓人不顧一切呀....
(我想如果殺WARRICK的人,改成是殺NICK女友,可能同樣處境下,他就會開槍了呀!)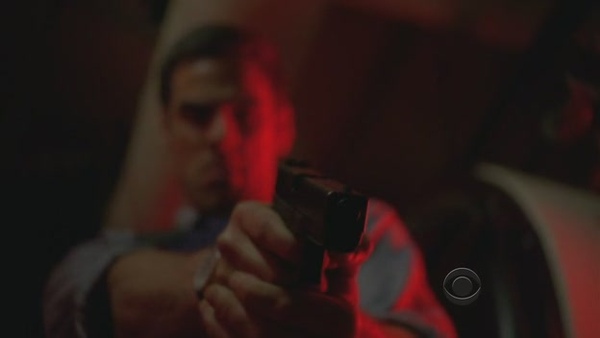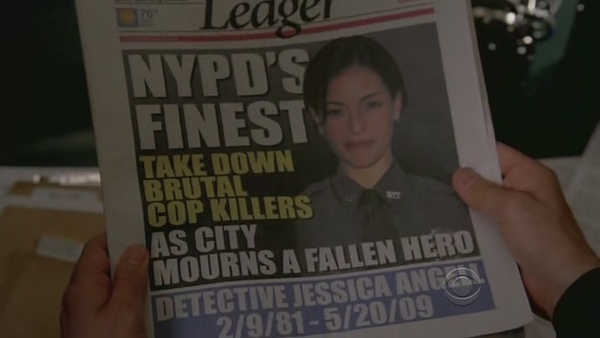 報業大亨刊出Jessica Angell的殉職新聞答謝他們的努力破案,只可惜一個美女警探就這樣香消玉殞...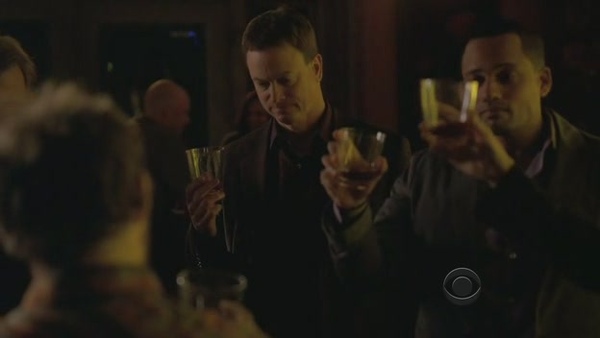 大家聚在酒吧,悼念Angell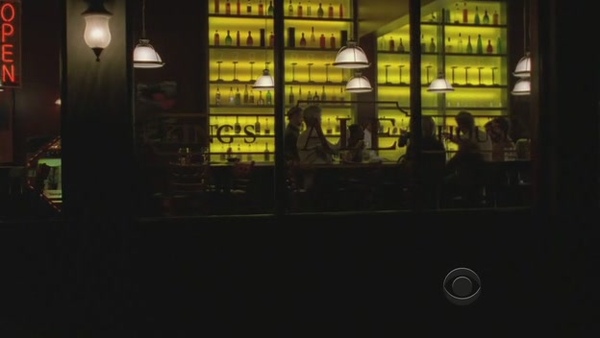 此時有陰謀悄悄逼近,忽然的掃射~不知道是否有人領便當...而結果,又是下季分曉囧...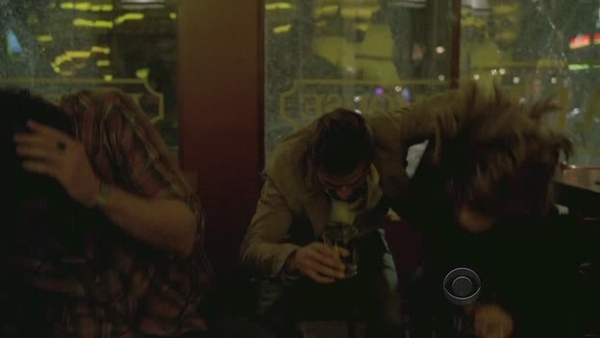 以下是八卦雜誌的透露口風,嗯~大家看看就好。
As we enter the last leg of the season, plot twists piling up on all sides, you can do one of two things: You can let the tension get to you and bite your nails down to nubs, or you can make fun of the suspense by trying to guess what's going to happen to whom. Of course, you don't have to guess which option I'm in favor of. As you will see below, I went ahead and compiled a by-the-numbers list of almost-spoilers -- all of which take place within the next two weeks. Now it's your turn. Connect the dots to answer your own burning questions. I'll even give you a (big) hint: At least one incident from the list pertains to the finales of each of the following shows: Desperate Housewives, 30 Rock, House, Ugly Betty, The Office, CSI: NY, Smallville, Supernatural, How I Met Your Mother, Prison Break, Lost, Gossip Girl, 90210, Grey's Anatomy, 24, and Bones. Mind you, in spite of appearances to the contrary, I can't know everything, so there may be a surprise or three that isn't mentioned below. But this rundown ought to be comprehensive enough to keep you up nights. Enjoy! (FYI: This list applies to regular or recurring characters, not random guest stars.)
Number of couples tying the knot: 4
Number of positive pregnancy tests: 2
Number of couples (maybe) having sex for the first time: 2
Number of confirmed fatalities: 7
Number of first-time love confessions: 2
Number of possible fatalities: 4
Number of babies born: 2*
Number of presumed-dead characters returning (in the flesh or as a hallucination): 3
Number of characters sent directly to jail (or taken into custody): 4
Number of former loves resurfacing: 2
Number of Cyndi Lauper cameos: 1
Number of characters converting to Scientology: 0
Number of car crashes: 2
Number of characters institutionalized: 2
Number of first kisses: 2
* One of the two births takes place during a time jump.
Think you can match the season-ending events with the shows they take place on? Take your best shot in the comments section!
Source: EW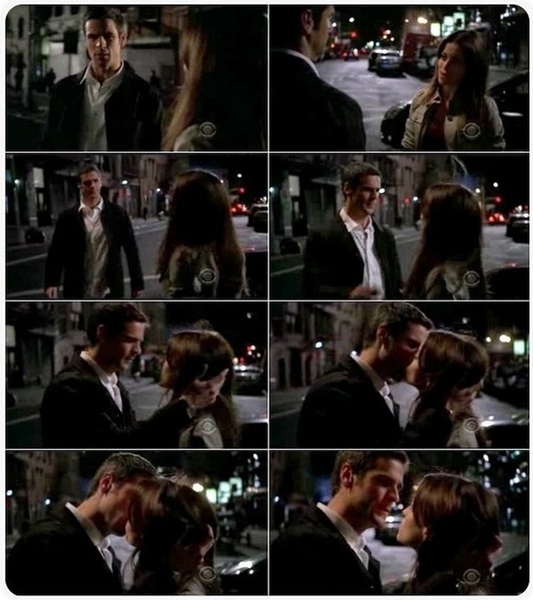 此情此景只能長留我們心中了.....
附帶一提,以下是他的採訪,關於為何會領便當一事...原來是砍預算的關係!?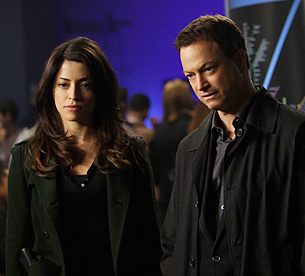 Emmanuelle Vaugier: Budget Cuts Killed Me By William Keck May 15, 2009 12:05 PM EST

After three seasons, Emmanuelle Vaugier's Det. Jessica Angell was killed off in the opening scene of CSI: NY's tear-jerking, season-ending finale. Here's why the show did it and what she's doing next (Hello, Charlie Sheen!)

How did you learn Jessica was being killed off?
One of the executive producers called me at home several weeks before we were going to shoot. It was right before the script was going to come out. She said, "I just wanted you to know first so you didn't hear it from someone else." And she was really great about it. She said, "We hate to do this. We're going to get so much crap from the crew and everybody. Gary [Sinise] doesn't know yet and he's not going to be happy." It was really sweet.

Did they tell you why?
They're just cutting back to save some money. Also, it makes sense for ratings to kill off a character that people have grown to like. It wasn't personal. They wouldn't have kept me for three years if they didn't like me. I just told them to if they're going to kill me off they better give me a really cool death. And they did. They wrote a really sad, heartfelt episode. Reading it was awful.

How did the cast react?
Word spread like a wildfire the next day. Everybody was really sweet and complimentary. There were tears-mostly mine.

How do you feel about the timing of her death?
I think it would have been nice for my relationship with Eddie [Cahill, who plays Det. Flack] to have developed a little more. We were just starting to have a lot of fun with it. I think they did as much as they could on a procedural show.

How was it shooting your death scene with Eddie?
It was awful. He was emotional. I was emotional. It was the last scene of the day at 4 in the morning and everyone was tired. I was a mess. I'm not a very good dead person. Eddie said, "I could see your eyes were tearing."

You've seen enough dead bodies over the past three seasons. What's the key to playing a convincing corpse?
It's just a matter of really relaxing so your eyes don't flutter. The slightest move of the eyelids the camera picks up. And you've got to keep your breathing really shallow.

Didn't you die on Smallville (in 2003, as Dr. Helen Bryce)?
I did. I got thrown out of a plane, but they never actually saw me exit the plane. You never saw if I grabbed a parachute. I was just gone.

Did you get a CSI goodbye cake?
The producers and Eddie had a coffee truck and In N Out Burger, which was very generous.

But you live on Two And A Half Men as Charlie's ex-fiancee Mia in the season finale (airing Mon., May 18).
I'm back to stir the pot after my character splits with her husband and bumps into Alan. I've returned to live in Malibu and am still carrying a torch for Charlie. It's a To Be Continued...so I'll be back in the season premiere, which we shoot in August. Now that I'm off CSI, I'd be happy to go play with them for awhile.

Why the heck is Mia still interested in Charlie?
There's always that bad boy thing that girls like.

Do you still have that in your personal life?
I think everybody harbors some of that, but eventually you try to get over it. And I am over it. That stuff never lasts. To be in a relationship like that with someone long-term is torture.
還有她美麗的身影,真可惜,我還頗喜歡她的,身為man界女士,我喜歡她帶點男孩子爽朗不造做的英氣,還有不失性感的微笑,真是難過呀!